Vitamin C Content
Pine needles purportedly have three to five times more vitamin C than an orange, depending on what source you read, but there's no hard and fast rule for how much C is in a pine needle.
Regardless of the exact percentage, we know that pine needles and pine bark make an excellent natural vitamin C supplement.
At least they're potent enough to cure scurvy, a chronic condition caused by vitamin C deficiency that, left untreated, results in death.
One historical account relates the 1536 story of French explorer Jacques Cartier, whose crew was cured of scurvy with a tea of pine needles and bark given to them by the Iroquois after the crew suffered months of nutritional deprivation at sea.
Even though the crew boiled the decoction, which would have destroyed a significant portion of the vitamin C, there was still enough ascorbic acid and various amino acids to completely reverse their symptoms of scurvy.
It was such a dramatic change, the tree used for tea became known as "tree of life".
There's no way to determine exactly what species it was, but we know the tree of life was a conifer.
Eastern white pine is just one of the handful of candidates that could have been used.
The ascorbic acid (vitamin C) content of pine needles seems to vary significantly depending mainly on the species of pine and the age of the needles.
The Eastern white pine needles of this USDA Forest Service study had between 0.72 mg and 1.87 mg of ascorbic acid per gram of pine needles.
New needles had the lower concentration, while 1 year old needles had 1.18 mg of vitamin C per gram of needles, and 2 year old needles had as much as 1.87 mg.
According to the USDA, 100 g of orange has 53.2 mg of vitamin C, or .532 mg/g.
That puts pine needles at slightly more vitamin C for new needles, twice as much for 1 year old needles, and 3.5 times as much vitamin C for 2 year old needles.
The gist of the research is that ascorbic acid content increases with the age of the needles.
Does that mean older needles are best for pine needle tea? Not if you're after taste. Older needles make a stronger, bitter, more piney tasting tea, so if you want a milder, more delicate tea, look for brighter green young pine needles.
And don't boil them. Boiling not only destroys vitamin C, but it also releases more terpenes -- the organic compounds that make pine smell like pine--making more of a turpentine-like tea.
Other research indicates that balsam fir needles have significantly more vitamin C than white pine, so species matters, and the bark of white pine has more than needles. If you want a more potent brew of vitamin C, throw in some pine bark.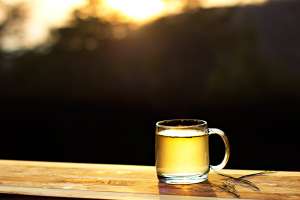 White pine
There are several species of pine that make suitable tea, but Eastern white pine (Pinus strobus) is one of the trees more commonly associated with pine needle tea, probably for its superior flavor.
Distinguishing traits of white pines:
White pine needles are typically 3-5" long and come in bundles of five, whereas yellow pine needle bundles only have two and, in some cases, three needles. However, it's not uncommon for a needle or two to be missing from a white pine bundle, so look over a few other bundles from the same tree if you're not sure.
White pine needles have a row of stomata which appears as a faint white line on the underside of the needle.
Although the color isn't necessarily unique to white pines, white pine needles are more of a blue-green rather than the purer green of some other pines.
Benefits of pine
There have been a number of studies done on the nutritional qualities and healing powers of pine needles and bark. Here are just a few:
Cancer prevention 
(Antioxidant, antimutagenic, and antitumor effects of pine needles (Pinus desiflora)):
"These results demonstrate that pine needles exhibit strong antioxidant, antimutagenic, and antiproliferative effects on cancer cells and also antitumor effects in vivo and point to their potential usefulness in cancer prevention."
Cardiovascular health, antioxidant, immune function 
(Comparison of methods for proanthocyanidin extraction from pine (densiflora) needles and biological activities of the extract):
"Flavonoids are known to be effective scavengers of free radicals. In particular, proanthocyanidins are flavonoids that possess cardiovascular protection, antioxidative activities, and immunomodulatory activities...In this study, we discerned an efficient extraction method to achieve relatively pure proanthocyanidins from pine needles and evaluated the biological functions of the resulting extract, which could potentially be used for its efficacious components in functional food products."
Potential treatment for anxiety, depression, and dementia 
(Effect of new polyprenol drug ropren on anxiety-depressive-like behavior in rats with experimental Alzheimer disease):
"The obtained results...indicate that Ropren [a trademarked preparation based on extract of spruce and pine needles] is potentially active in the management of affective impairments in the experimental model under consideration. It also has a profound beneficial effect on the anxiety and depressive-like behavior in rats with model Alzheimer's type dementia, and thus may prove to be a novel natural treatment."
Dangers
Avoid pines that aren't really pines. These include Yew pine (Podocarpus macrophylla) and Norfolk Island pine (Araucana heterophylla). And stay away from the highly toxic yew (genus Taxus).
Most sources warn of the potential dangers of pines like Ponderosa pine (Pinus ponderosa) and Lodgepole Pine (Pinus contorta), citing the possibility of abortion from drinking tea made with these species. And some sources say all pines could potentially cause abortion.
According to Green Deane Jordan of EatTheWeeds, pine needle tea drunk in moderation shouldn't cause any problems unless you're allergic to pine.
"The basis for this rumor is a veterinary study decades ago. If you are a cow and you eat many pounds of Ponderosa Pine needles you have a 5 to 8 percent chance out of 100 of having an abortion or still-birth. If you boil a huge amount of pine neeles [sic] in water for hours down to a small amount of gross liquid and you drink it, then maybe it would cause an abortion. A few of needles soaked in hot water is no threat to anyone except for possible allergies."
If you're worried about it, stick with tried and true Eastern white pine, and of course exercise moderation.
INGREDIENTS
1/2 cup Eastern white pine needles, chopped or cut with scissors into 1/2 inch lengths

3 cups water
INSTRUCTIONS
Bring water to a boil in a stainless steel pan.

Add pine needles. The addition of the needles should bring the water temperature down below boiling.

For a milder tea, remove from heat and let steep for 15 to 20 minutes.

For a stronger tea, reduce heat and simmer -- don't boil -- for 20 minutes and remove from heat. Then cover and let sit overnight or continue to next step and serve.

Strain out pine needles, sweeten to taste, and serve tea hot or cold.
NOTES
Make sure not to boil the pine needles in order to preserve the vitamin C and prevent the release of bitter terpenes. Vitamin C doesn't last long, so drink this tea as soon as possible.